as you may remember, two weeks ago was jason's birthday. one of jason's birthday presents from me was a week of potatoes.
while planning our menu for that week, i threw in a couple sweet potato recipes. when i ran the list past jason, i was informed that "sweet potatoes are not potatoes." he was appalled i even brought it up. i personally enjoy a sweet potato significantly more than a normal potato, but that's relationships, right? you sometimes just have to eat a week of the wrong kind of potato… anyways, this curried sweet potato soup was stricken off the birthday week list, but i am getting my revenge way today.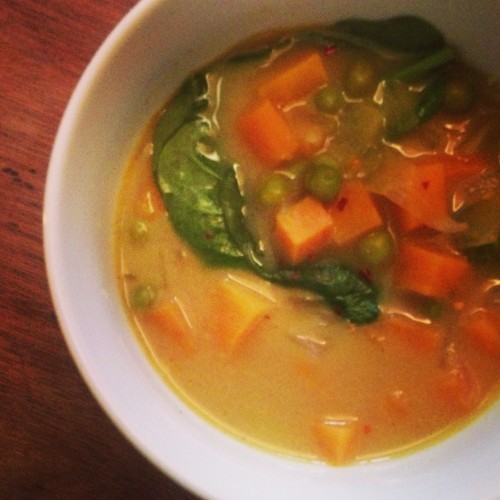 Curried Sweet Potato Soup
Ingredients
2 tablespoons olive oil
1 large onion, chopped
2 garlic cloves, chopped
1 tablespoon curry powder
juice from ½ a lime
1 15-oz can light coconut milk
3 cups vegetables broth
2 sweet potatoes, peeled and cut into cubes
2 tablespoons brown sugar
½ cup peas (frozen is fine)
1 cup spinach
salt to taste
crushed red pepper to taste
cilantro as garnish
Instructions
In a large pot, heat olive oil. Add in onions and cook until translucent. Add in garlic and curry and mix well.
Pour in lime juice, coconut milk, and broth. Add potatoes, brown sugar, and salt and bring to a boil.
Reduce heat, cover, and simmer for 25-30 minutes. Once potatoes are soft, add in peas and spinach and cook until spinach has wilted, about 5 minutes.
Add crushed red pepper and serve with cilantro.
recipe adapted from love and lemons.
One Comment