Last week, we finally brought our grill out of it's hiding place in the garage.
The weather was perfect, the kid was in bed, and Jason and I took our time putting together dinner. It was one of those nights where you reflect on life and realize that things are, in fact, going pretty well and that contrary to what people thought when they met you at 20, you did manage to pull yourself together.
So white wine and beer was had.
We got some garlic scapes in our CSA box last week, and I immediately decided to grill them, but because we split our share with a friend, I wanted more. We picked up an extra batch at the market on Saturday and then grabbed some rather large fingerling potatoes. Some Italian sausages and a whole bunch of olive oil later, we were ready to grill.
Garlic scapes are the shoots that grow out of a garlic bulb and are usually cut off so that they don't drain the nutrients from the bulb itself. Eaten raw, they have a very garlicy taste (surprise!) but when cooked, they mellow out significantly. I've seen tons of recipes for scape pesto and scape hummus, both of which show off the vegetable in raw form. I've also seen blanched scapes used in salads, or chopped scapes used just like you'd use garlic in a dish.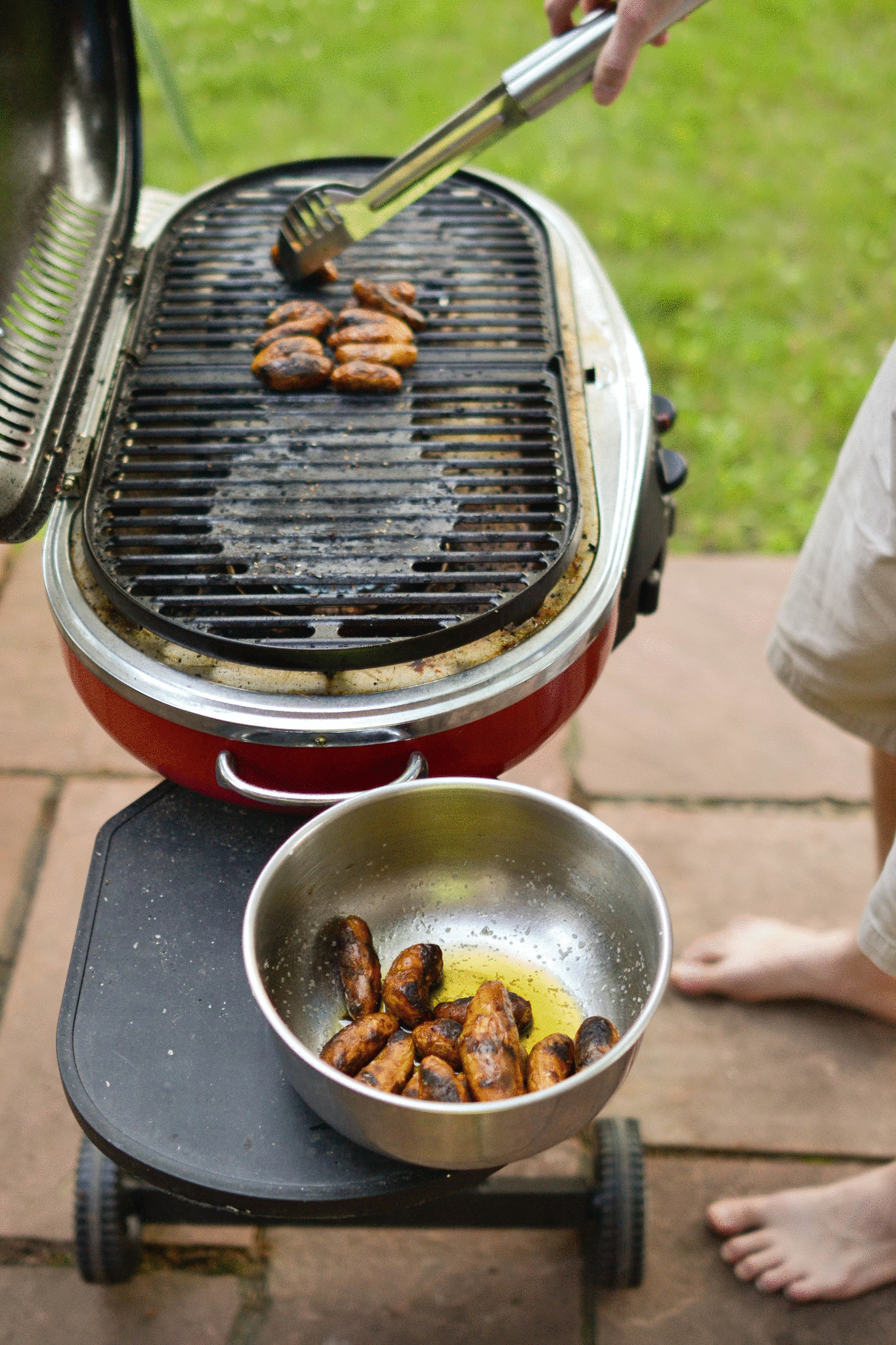 My choice: grilling the scapes. We aimed to char them just slightly for that smokey flavor, but really, the scapes don't need much help. When grilled, they mellow and sweeten, and become an excellent complement to a pork sausage and potatoes.
As for the potatoes, we chose some big fingerlings, but any young potato would do well here. If your potatoes are too small, grill them in a pouch of tin foil. You won't have those nice grill marks but you won't loose anything on taste.
Simple ingredients made in a simple manner, but together they're a really knockout cookout meal.

Grilled Sausage with Potatoes and Garlic Scapes
Prep time:
Cook time:
Total time:
Ingredients
2 pounds large fingerling potatoes (or other young potato), halved if very large
½ cup olive oil, plus more for brushing
Kosher salt
16-20 garlic scapes
4 Italian pork sausages
1 teaspoon vinegar
1 teaspoon lemon juice
1 teaspoon Dijon mustard
¼ cup flat leaf parsley, chopped
Instructions
To prepare:
Toss potatoes in a large bowl with ½ cup olive oil and a generous dose of Kosher salt. If the potatoes are very small, put them into a tin foil pouch to grill. Otherwise, you can put them directly on the grill.
Place scapes on a baking sheet and drizzle with olive oil. Using your hands, rub oil onto scapes making sure they're fully covered. Salt the scapes as well.
To grill:
Once your grill is hot, add potatoes to grill for about 10-20 minutes, depending on size their size, turning halfway through. Do not discard the oil and salt that's at the bottom of the bowl you tossed the potatoes in.
Once potatoes are cooked, transfer them back into bowl with oil. Add vinegar, lemon juice, and mustard and toss to coat. Cover to keep warm.
Place sausages on grill and cook until they're done, about 10 minutes. Set aside.
Add scapes to the hottest part of the grill and cook for about 1 minute per side. Scapes should char slightly but retain their bright green color. Remove from grill.
Arrange potatoes, scapes, and sausages on a serving platter and top with parsley. Adjust seasoning if needed.
6 Comments