So this is what it feels like when your first baby turns five.
Five years ago, I started Things I Made Today as an alternative to keeping Post It notes and dog-eared recipe books all over my kitchen. Five years ago, I had nothing but an iPhone and a Tumblr. That fed my need to create pretty things, although in retrospect, they were not pretty at all.
Since the first anniversary of the blog, Jason and I have been doing a his and her's roundup of the best recipes of the year (first his and hers, second his and hers, third his and hers, and fourth his and hers). Usually, we agree on about 50% of the recipes that make the top list, but the rest we choose our own. This year we basically matched 90%, so instead of boring you with two posts, we hashed it out and settled on a single list.
What follows is the best recipes of the year. But first, some rambling.
Have I told you guys how much I love it here? This little piece of internet that's mine and no one else's? How much this blog has helped me slow down, learn, appreciate, taste. How far my cooking skills have come since I decided that I—someone with zero formal training or cooking education—have the right to share things with others like I'm some sort of authority which I so clearly am not. How much I've loved getting to know my camera, which I still am surprised by on a daily basis. How much I've grown attached to the farming and restaurant community not only here in Madison but everywhere that I travel. How much I like sharing ridiculous misadventures in kitchen and life.
This is my happy place—and it's been so for five years. Now onto the best food I made this year.
Top Three Breakfasts
03. Pumpkin Scones – I'm not going to lie, I have the scone formula down. This time, the best of fall works perfectly in these slightly sweet scones that's indulgent but not too indulgent for breakfast.
02. Crispy Hash Browns with Miso Aioli – it's taken me too long to figure out that in order to make the best has browns, you just got to take the time to squeeze out all that extra water. These hash browns are topped with a miso aioli that you can lick from the jar, which I believe both Jason and I did.
01. Braided Cardamom Brioche Bread – this recipe is a project to say the least, but when you complete said project, you're left with the most fragrant, beautiful, and tasty brioche loaf. Swirled with cardamom and topped with a honey glaze, I cannot wait until the next Sunday morning I have to dedicate to making this.
Top Three Appetizers & Snacks
03. Potato, Leek, and Goat Cheese Tarts – this must be the year of the tart, because there are quite a few on here. Starting with the classic combo of potato and leeks, I like to add goat cheese for a tangy bite.
02. Tomato and Corn Tarts – summer at it's finest with heirloom tomatoes and corn cut fresh off the cob. Good served warm but just as tasty served cold, these tarts are a really nice addition to any party.
01. Prosciutto Toasts with Quince & Apple's Pear Mostarda – I will do anything to eat more of Quince and Apple's Pear Mostarda, including eating it straight out of the jar while camping, but if you want to pair it perfectly, do so with this recipe.
Top Three Salads
03. Plum, Prosciutto, and Burrata Salad – this one is a bit for show as it's got a lot of components, but this single bite will blow you away.
02. Summer Squash, Cucumber, and Snap Peas with Miso Dressing – a perfect way to quickly use up all the summer vegetables when you're drowning. The squash, cucumbers, and peas soak in that miso dressing just right, making it even better on day two.
01. Dragon Tongue and Fennel Salad with Feta – you can substitute green beans  or snap peas for the dragon tongue if you have to and not skip a beat, but I do love the texture and color of this salad as written. Without a doubt my go to salad this year, and hence why it's number one.
Number One Soup
01. Broccoli Coconut Soup with Langostino Tails – I didn't make too many new soups this year, but when it came to picking a favorite, this one was a clear winner. The langostino tails make it extra fancy, but even without the seafood, this one is a total winner.
Top Five Main Dishes
05. Farro with Spring Vegetables – the perfect light vegetarian meal with so much flavor and color. This is exactly what you want to do with the first asparagus harvest in the spring.
04. Creamy Chicken with Mushrooms and Leeks – a one pot meal that's beautiful, complex, and extremely filling. The sauce pulls everything together, and it is super simple to make.
03. Spicy Tomatoes and Spinach Galettes with Runny Eggs – these are basically hand held shakshuka galettes and I'm all about them. The egg on top phase may be over, but I'm not over it yet.
02. Spicy Salmon with Israeli Couscous and Chickpeas – when working through this recipe I never expected it to be a total knockout, but that's what it is. The sweetness of the raisins with the spiciness of the harissa combined with all the other goodness in this one make it interesting for every bite.
01. Scallops with Gouda Grits – scallops for the win, I guess that's no surprise. A luxurious combination of smoky grits and scallops with two different kinds of tomato sauces (one cooked, one raw). I dream about this one.
Top Five Side Dishes
05. Roasted Delicata Squash with Parmesan and Walnuts – simplicity wins. Delicata squash has that thin skin that other squash wish for and it looks absolutely stunning. Just sprinkle a few things on top and you've got the perfect side dish.
04. Brown Butter Broccoli Over Quinoa and Feta – lots and lots of good stuff in this one, all pulled together by some brown butter because everything is better with brown butter.
03. Charred Asparagus with Horseradish Cream Sauce – looks like simplicity is the name of the side dish winners this time around. Charred asparagus drizzled with an easy sauce with a kick pairs perfectly with whatever protein you're after: chicken, pork, beef, or fish.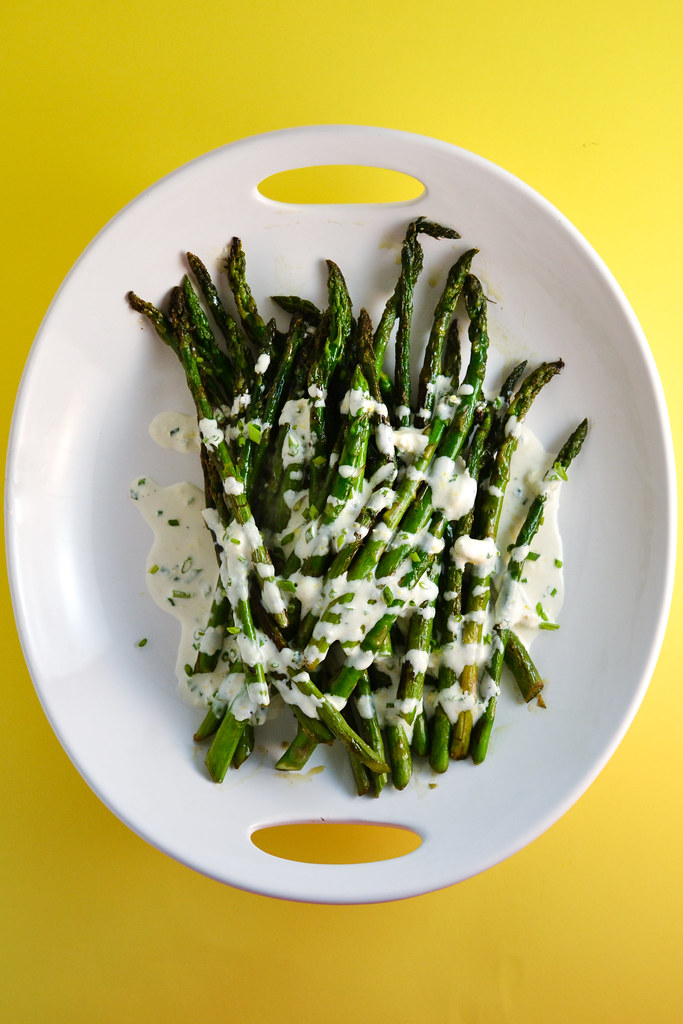 02. Caponata – ok, I may be a little bit addicted to this one. Since we've been drowning in eggplant this summer I've been making caponata non-stop. I love this warm as a side dish and I love this cold as an appetizer.
01. Brown Buttered Squash with Prosciutto and Goat Cheese – Did I tell you that brown butter is your friend? In this case, I'm pairing it with something a bit heavier and more fall/winter focused. This is a great holiday side dish for Thanksgiving or whatever you're celebrating these days.
Top Three Desserts
03. Cadence Cold Brew Nitro Affogato – when our favorite Italian restaurant closed this year, we made sure to get one more reservation just to taste their affogato. Then I decided to make my own, but with a cold brew nitro coffee rather than espresso. Maybe it's a bit of nostalgia but I really love this dessert.
02. Poppy Seed Roll – this one is a bit of a cheat (I use canned poppy seed pastry filling) but god damn it is it worth it. Every time I make one of these, it's gone in about 15 minutes.
01. Blackberry Sage Pie – when our blackberry bushes exploded this year, I had no choice but to figure out how to use up pounds and pounds and pounds of fruit. This was the conclusion and fingers crossed we have the same problem every year moving forward.
Until next year!