today almost felt like spring.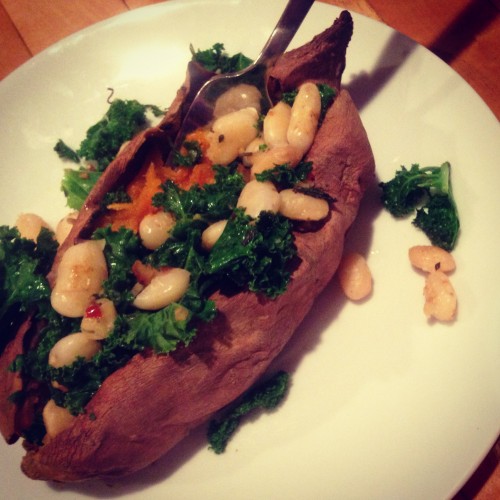 and by almost, i mean that it was in the low thirties but the sun was shining for the majority of the day. that's a little win for humanity, right?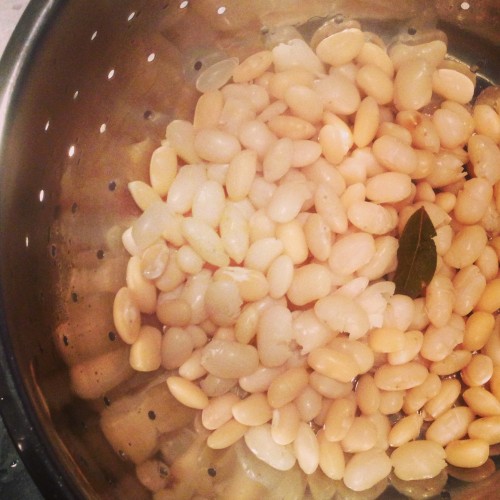 what goes well with sunshine, i asked myself? sweet potatoes! oh and right i was. these sweet potatoes are stuffed with kale, cannelloni beans, and turkey bacon. they are healthy, filling on their own, but good with a cup of soup (i finished off the tomato soup from last week, sans egg and almonds). i wouldn't call these life changing. i would call them above adequate for a unseasonably cold but optimistically sunny tuesday in march.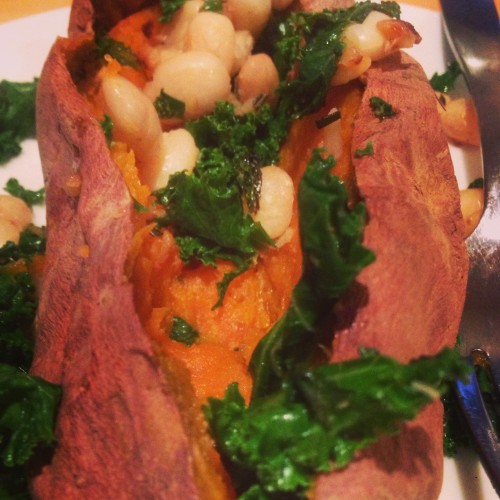 Sweet Potatoes Stuffed with Kale and Beans
Ingredients
⅓ cup uncooked cannelloni beans or 1 cup canned (cooked) cannelloni beans, drained
4 sweet potatoes
2 tablespoons butter
1 shallot, chopped
2 garlic cloves, chopped
2 slices turkey bacon, chopped
¼ teaspoon red pepper flakes
6 cups kale, stems removed, chopped
juice from ¼ of a lemon
salt and pepper to taste
Instructions
If you're starting out with uncooked beans, soak the beans overnight. Place beans in a large pot with at least an inch of water covering them plus a bay leaf. Bring to a boil, reduce heat and cover, and cook for 45 minutes or until beans are soft. Strain beans and set aside. This whole process can be done the previous day if needed.
Preheat oven to 400.
Place the sweet potatoes on a baking dish and poke a couple holes in them with a fork. Bake for 45 to 60 minutes, until potatoes are tender.
About 15 minutes before the potatoes are done, heat butter in a large pan. Add shallots and garlic and cook for 5 minutes. Add in bacon and cook until slightly crispy. Add in red pepper flakes and kale. Squeeze lemon juice and cook until kale has wilted.
Once potatoes are done, cut each down the middle and stuff with kale and beans mixture.
recipe adapted from the kitchn.