It saddens me to know that I didn't discover grilled cabbage until about a year ago.
Cabbage, while indisputably good in slaws (hold the mayo) or when stuffed with meat and rice and made into a roll, isn't the type of vegetable to get most people excited for dinner. Grilled cabbage, on the other hand, completely changes the game.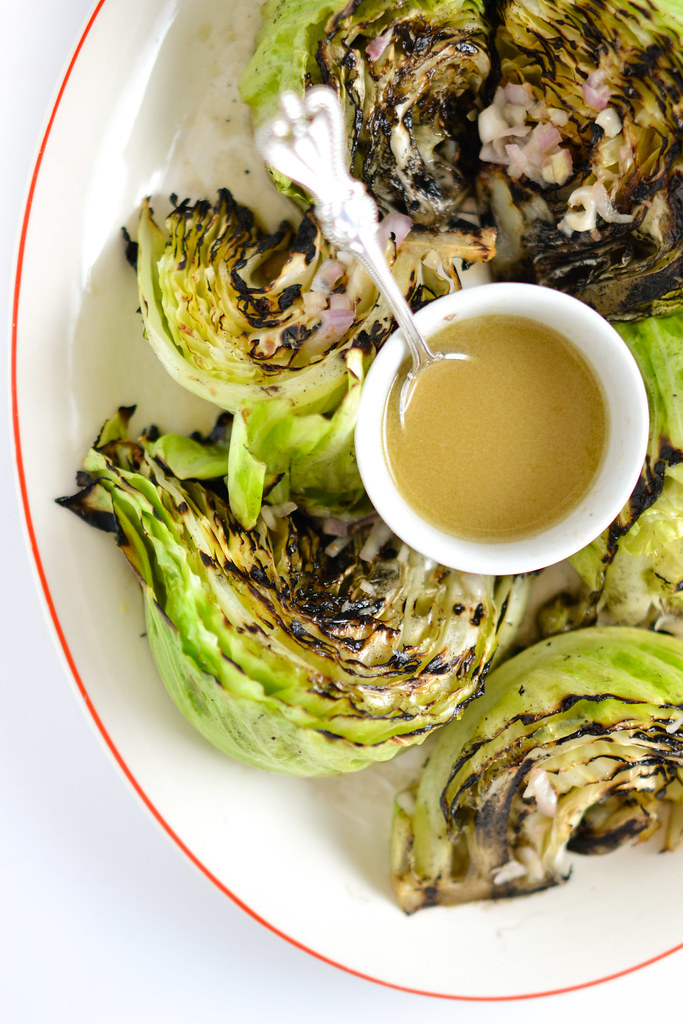 When grilled, cabbage softens and sweetens. The leaves on the outside char while the core warms up.
Grilled cabbage doesn't need many additions, but I've been experimenting with different sauces. This version, which uses anchovies in a vinaigrette-style sauce, adds just a touch of saltiness and umami, rounding the dish out perfectly.
Depending on the size of your cabbage, you can work this as a main dish (it's amazing how filling a quarter of a cabbage can be), or you can serve it as a side dish to grilled fish or poultry.
I don't know if I can ever go back to eating cabbage any other way.
Grilled Cabbage with Anchovy Sauce
Recipe type:
Main Dish, Side Dish
Prep time:
Cook time:
Total time:
Serves:
4 as main dish, 8 as side
Ingredients
For sauce:
½ cup olive oil
2 tablespoons red wine vinegar
4-6 anchovy fillets, to taste
1 shallot, chopped
For cabbage:
1 large head of green head or tendersweet cabbage
Olive oil
Instructions
To make the sauce:
In a food processor, combine olive oil, vinegar, and anchovies. Run processor until mixture emulsifies and gets thick. Taste and add more anchovies if desired.
Add in shallot and give it a couple good pulses. Set aside.
To make the cabbage:
Get your grill nice and hot.
Cut cabbage in half, taking care to leave an even amount of the core in each half. Cut each half into four pieces, again, taking care to leave a piece of the core in each one so it does not fall apart.
Brush each piece of cabbage with a little olive oil on both sides.
Place cabbage pieces on grill and cover. Cook for about 5 minutes per side, until outer edges are nicely charred. Flip and repeat on other side. Transfer to platter.
Drizzle anchovy sauce over cabbage and serve immediately.
2 Comments